Description
The Philips Neopix Easy 2+ Home Projector is a super compact projector that takes your eyes of those little screens and turns them to a massive 65" screen. 
A lot of people, mostly teenagers are trending away from televisions and watching everything on their devices. But they are missing out on that big screen experience, now they can have that experience in the comfort of their own rooms, no more squinting to see Spiderman on that puny screen. The NeoPix 2 gives a comfortable HD 720p image up to 65" in size. There is a wide range of connective possibilities (HDMI, USB, MicroSD). Advanced electronic keystone and zoom correction technology. The projector has an amazing built-in multimedia player to play films, images and even music from your USB stick and phone. 
Advanced LED Light Source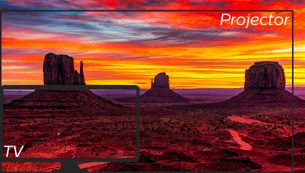 Features
Home Projector 
Digital LCD Technology
LED Light Source Technology Up to 30,000 Hours
Resolution 1280 x 720 pixels & Resolution Supported 1920 x 1080px
Projection Distance: 80cm - 200cm /24" - 60"
Aspect Ratio 16:9
Throw Ratio 1,4:1
Contrast 3000:1
Manual focus Adjustment
Recommended for a dark room with screen up to 65"
Sound: Stereo Speaker 2 X 3W

Connect any headphones or external powered speakers with the built-in 3.5 jack.
How about these cool gadgets...